HEALTHY CHOCOLATE CHIP COOKIE DOUGH BARS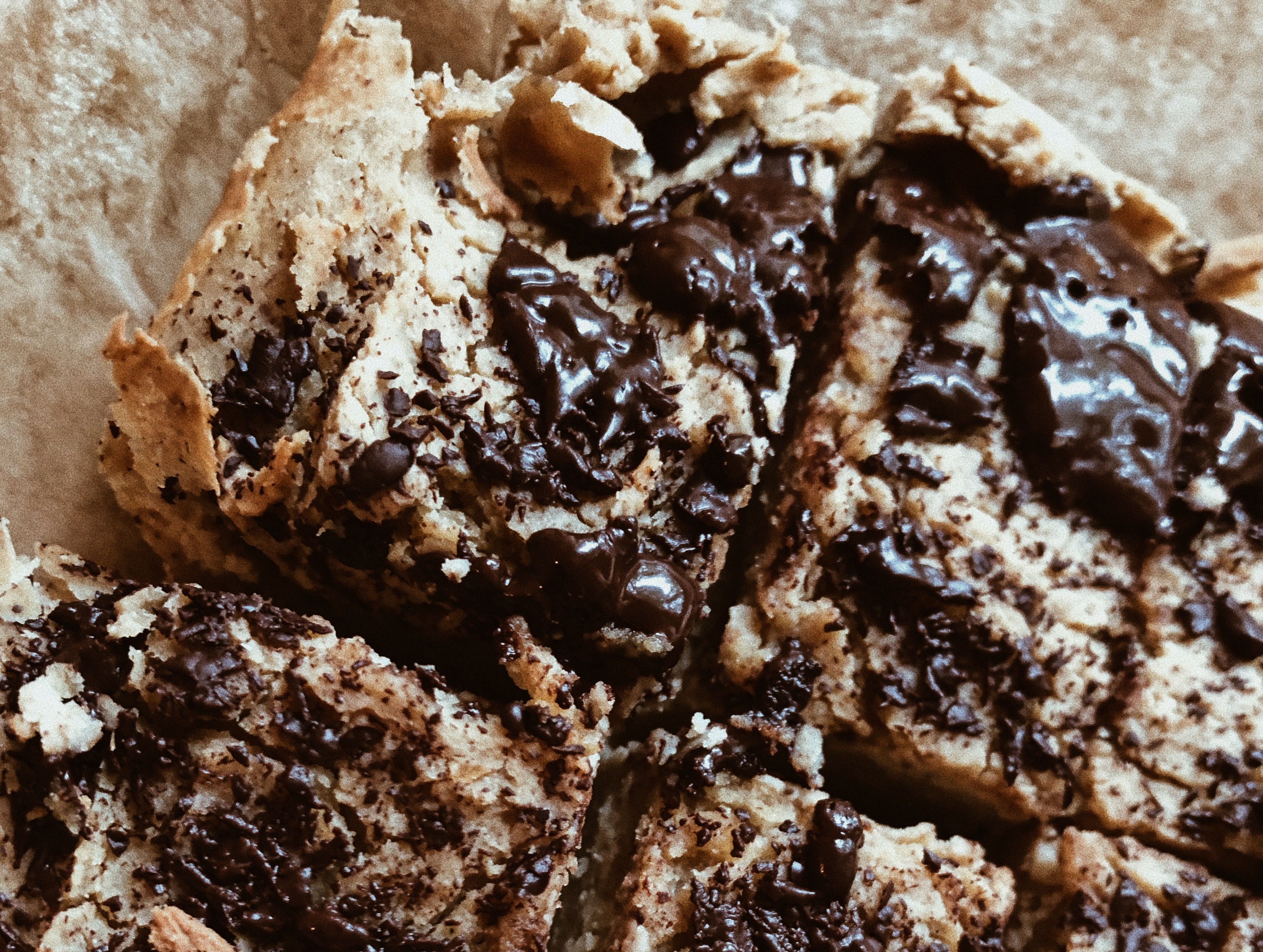 WHAT YOU NEED:
1 can chickpeas (drained and rinsed)
40g peanut butter
40g dates
100g pumpkin puree (or apple sauce)
½ tsp sea salt
½ tsp baking powder
50g dark chocolate (preferably 75% cocoa or more) 
2 tbsp plant-based milk
HOW TO:
Preheat the oven to 150° C.
Combine all ingredients except for the choloate in a kitchen machine until a thick dough forms. 
Cut the chocolate into small pieces and mix half of it under the dough. 
Spread the dough onto a parchment paper lined baking dish and sprinkle with the rest of the chocolate as well as some more sea salt. 
Bake for 10-15 minutes until the dough becomes golden brown on top but the center is still doughy and moist. 
Let sit to cool and then cut into bars. 
WAS IHR BRAUCHT:
1 Dose Kichererbsen (abgetropft und gewaschen)
40g Erdnussbutter
40g Datteln
100g pürierte Möhre (kein Muss, verleiht dem Ganzen aber einen schön teig-artigen Geschmack)
½ TL Meersalz
½ TL Backpulver
50g dunkle Schokolade, in kleine Stücke gehackt (möglichst 75% Kakaoanteil oder mehr, damit der Zuckergehalt möglichst gering ist)
2 EL Pflanzenmilch oder Wasser
HOW TO:
Den Ofen auf 150° C vorheizen. 
Alle Zutaten bis auf die Schokolade mit einer Küchenmaschine zu einem zähen Teig verarbeiten. 
Die Schokolade in feine Stücke schneiden und die Hälfte in den Teig geben. 
Den Teig in einer mit Backpapier ausgelegten Küchenform oder einer Silikonform verteilen und mit dem Rest der Schokolade sowie etwas mehr Meersalz bestreuen. 
Das Ganze dann für 10-15 Minuten in den Ofen geben bis der Teig oben leicht golden, innen aber noch teigartig moist ist. 
Abkühlen lassen und in Riegel schneiden. 
I am Marie. Marketeer, Personal Trainer and Online Coach and just really passionate about creating healthy recipes and moving my body either during a spicy workout, nice run or a sassy hip hop dance through my apartment.  
If you want to see more of what I am up to (or see me dance lol), feel free to follow me on Instagram. 
Want to get in touch with me? Just drop me a message.