Salted Peanut Butter Caramel Smoothie Bowl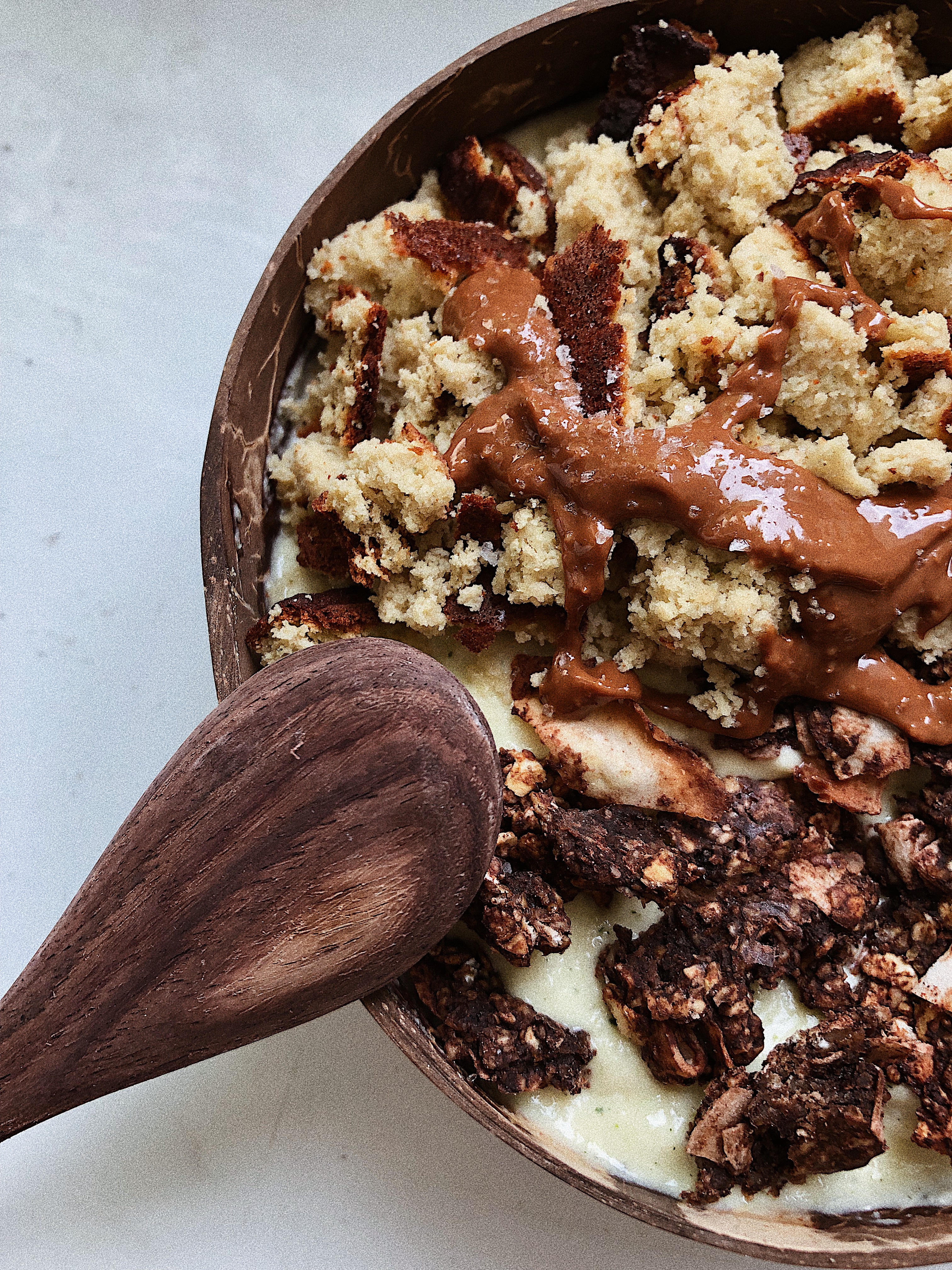 So, I've actually never been a 'caramel-person'. It just always tasted too sweet, too artificial. Whipping up a caramel sauce from dates, though: a totally different story. In combination with any form of nut butter (in case you haven't tried peanut or almond butter stuffed dates, I can only encourage you, to do that ASAP): a total game changer. So, to honor my newly discovered love for anything 'caramel' (and apparently also anything 'salted PB' I have created two easy, nutritious and protein-packed recipes for you: this Salted Peanut Butter Caramel Smoothie Bowl as well as two versions of my Salted Peanut Butter & Oat Breakfast Cookies.
Enjoy!
(find German recipe below)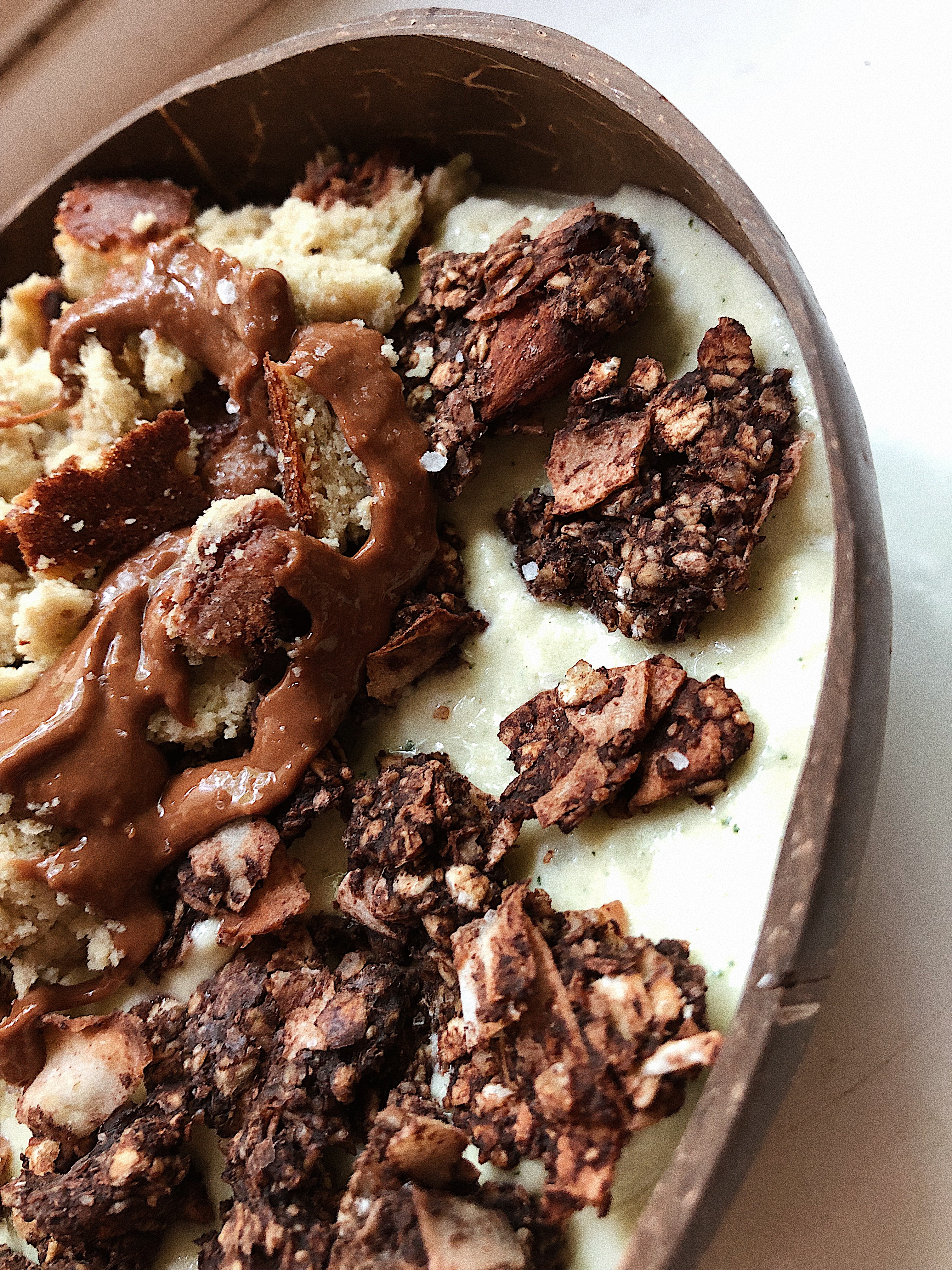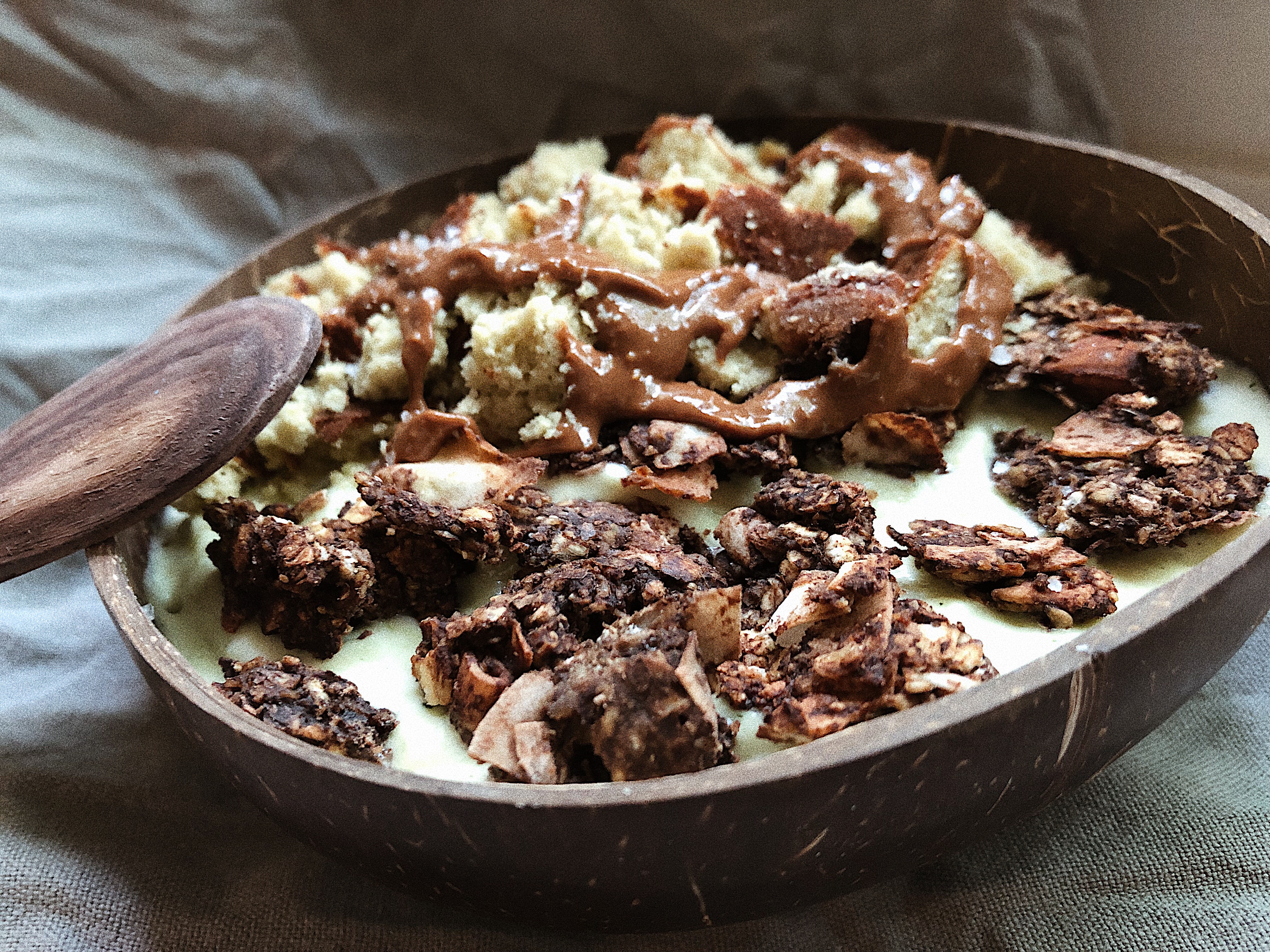 WHAT YOU NEED:
100g frozen zucchini
100g frozen cauliflower
2 tbsp coconut yogurt 
1/2 scoop Multipower Salted Peanut Caramel Whey Protein (or any other peanut or caramel protein of your choice)
60g frozen fruit of your choice (banana, papaya – whatever you like :))
1-2 dates (or sweetener of choice, dates work best for that caramel flavor, tough)  
1 tbsp peanut butter
dash of sea salt
HOW TO:
Combine all ingredients in a high-speed blender and blend until smooth. 
Serve with toppings of choice. I like to crumble up some sort of homemade bar or cookie, then add granola, peanut butter and another sprinkle of sea salt. 
WAS IHR BRAUCHT:
100g gefrorene Zucchini
100g gefrorenen Blumenkohl
2 EL Kokosjoghurt 
1/2 Scoop (bzw. 15g) Multipower Salted Peanut Caramel Whey Protein (oder alternativ ein anderes Whey mit Erdnuss oder Karamell Geschmack) 
60g gefrorene Früchte  (Banane, Papaya, Mango – whatever you like :))
1-2 Dateln (oder Süßungsmittel Eurer Wahl, Datteln verleihen dem Ganzen aber den besten Karamell-Geschmack)  
1 EL Erdnussbutter 
Prise Meersalz
HOW TO:
Alle Zutaten in einem High-Speed Mixer pürieren.
Mit Toppings Eurer Wahl servieren. Ich toppe meine Smoothie Bowl gerne mit einem selbstgemachten Cookie oder Riegel, Granola, Erdnussbutter und noch etwas mehr Meersalz for that salty PB flavor 🙂 
I am Marie. Marketeer, Personal Trainer and Online Coach and just really passionate about creating healthy recipes and moving my body either during a spicy workout, nice run or a sassy hip hop dance through my apartment.  
If you want to see more of what I am up to (or see me dance lol), feel free to follow me on Instagram. 
Want to get in touch with me? Just drop me a message.