Chocolate Almond Fudge Bites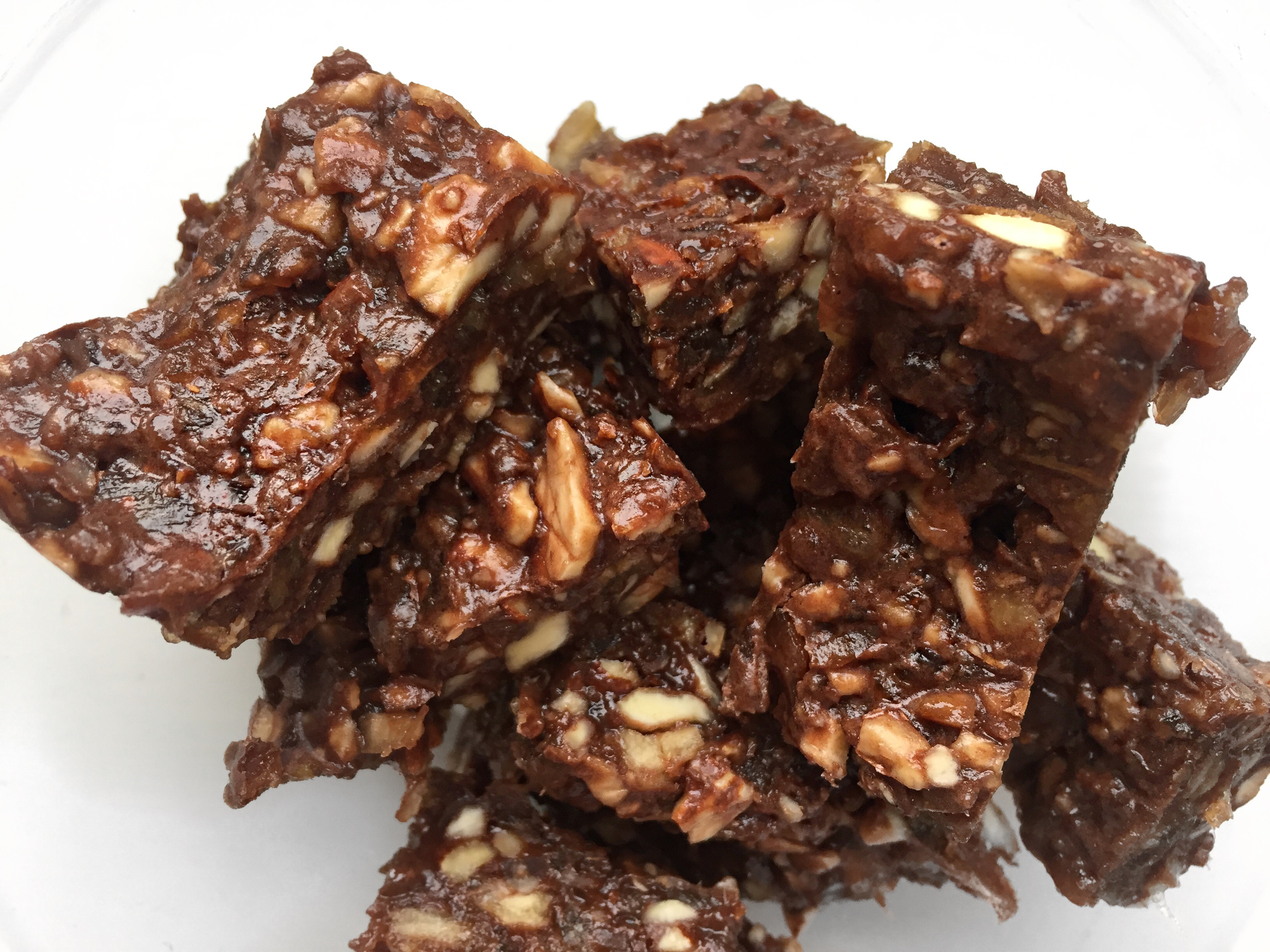 WHAT YOU NEED:
(makes 8-12 pieces)
100g dates
50g almonds
30g Chocolate Whey Protein Powder 
3 tbsp water
HOW TO:
Soak dates in hot water for about 10 minutes.

Grind almonds in a food processor. 

Combine both and grind once more to get a sticky, clumpy texture.

Add protein powder and water and mix until everything is well combined. 

Line a small baking pan with parchment paper and press dough evenly in it.

Store in the fridge for at least one hour and then cut into a small bite sizes. 
WAS IHR BRAUCHT:
(für 8-12 Stück)
100g Datteln
50g Mandeln
30g Schoko Whey Protein Pulver 
3 EL Wasser
 HOW TO:
Die Datteln für ca. 10 min in heißem Wasser einweichen lassen.
Die Mandeln in einer Küschenmaschine zerkleinern.
Die Datteln abtropfen lassen und zu den Mandeln geben und erneut zerkleinern bis die Datteln und Mandeln anfangen, Klumpen zu bilden.
Nun das Protein Pulver und das Wasser hinzugeben und solange mixen bis alles gleichmäßig vermengt ist.
Den Teig in eine kleine eckige, mit Back- oder Butetrbrotpapier ausgelegte Form pressen und mit einem Messer glatt streichen.
Für mind. eine Stunde im Kühlschrank kalt stellen und anschließend in kleine Bite Sizes schneiden.
I am Marie. Marketeer, Personal Trainer and Online Coach and just really passionate about creating healthy recipes and moving my body either during a spicy workout, nice run or a sassy hip hop dance through my apartment.  
If you want to see more of what I am up to (or see me dance lol), feel free to follow me on Instagram. 
Want to get in touch with me? Just drop me a message.