Nach den letzten stressigen Wochen, ja fast schon Monaten, gefüllt mit way too many to do's, aber auch einfach vielen social gatherings, ist heute tatsächlich der erste freie Tag, an dem ich zur Abwechslung mal nichts vorhabe. Deswegen durfte heute mal wieder etwas in der Küche experimentiert werden. Und zwar mit dem ersten Kürbisdieses Jahres. Einfach plain in den Ofen geschmissen und für 30 Minuten geröstet ist er nun prepped und wird die nächsten Tage u.a. Bestandteil meiner Salate sein. Als süße Alternative eignet sich (ungewürzter) gerösteter Kürbis aber auch ganz toll for something sweet: Cookie Dough Cookies. Voller Protein und wenn man keine Lust zu backen hat, kann man die guten Teile auch gerne raw essen, dann schmecken sie nämlich erst recht wie Cookie Dough. Und wer bitte mag schon keinen Kuchenteig löffeln?! 
(find English recipe below)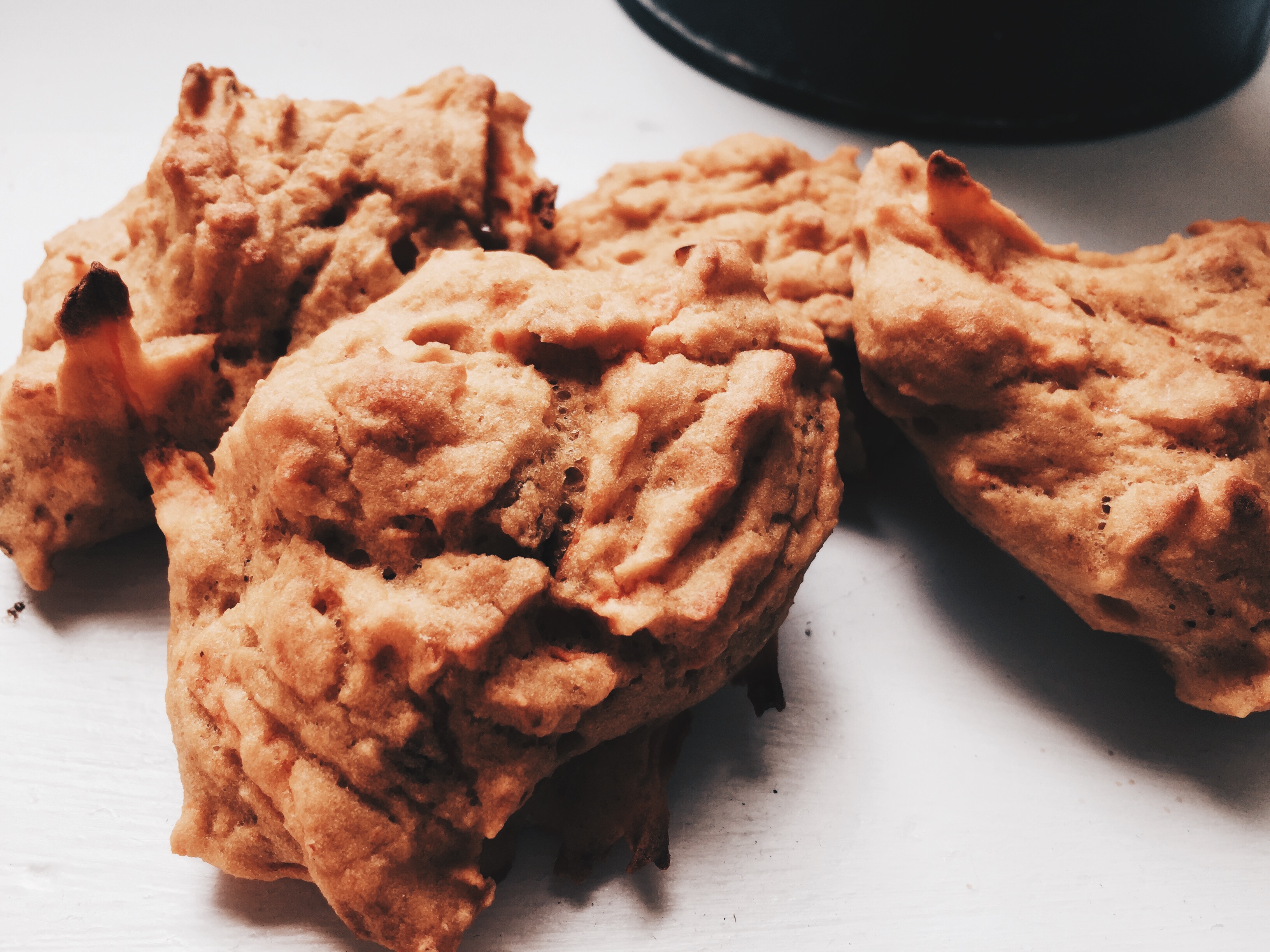 WHAT YOU NEED:
1 can chickpeas
100g roasted pumpkin
1 scoop / 30g protein powder (I used vanilla flavoured protein powder)
1 egg
1/2 tsp baking powder
1 tsp coconut sugar
1 carrot
HOW TO:
Preheat the oven to 180°.
Rinse and drain chickpeas.
Mix chickpeas, pumpkin, protein powder, egg, baking powder and coconut sugar in a bowl and puree until smooth. 
Grate the carrot and stir into dough mixture. 
Place cookie dough on to a backing tray and bake at 180° for approx. 15-20 minutes. Or just eat it right out of the bowl 🙂 
WAS IHR BRAUCHT:
1  Dose Kichererbsen 
100g gerösteten Kürbis (ungewürzt)
1 Scoop bzw. ca. 30g Protein Pulver (ich hab Vanille genommen)
1 Ei
1/2 Tl Backpulver 
1 TL Kokosblütenzucker
1 Möhre
HOW TO:
Ofen auf 180° vorheizen (Ober/Unterhitze).
Kichererbsen gut abspülen und abtropfen lassen.
Kichererbsen, Kürbis, Protein Pulver, Ei, Back pulver und Kokosblütenzucker in eine Schüssel geben und mit dem Stabmixer cremig pürieren. 
Möhre raspeln und unter die "Cookie Dough" Masse rühren.
In Cookie-Größe auf einem Backblech verteilen und bei 180° ca. 15-20 Minuten backen. Oder eben einfach so essen 🙂 
I am Marie. Marketeer, Personal Trainer and Online Coach and just really passionate about creating healthy recipes and moving my body either during a spicy workout, nice run or a sassy hip hop dance through my apartment.  
If you want to see more of what I am up to (or see me dance lol), feel free to follow me on Instagram. 
Want to get in touch with me? Just drop me a message.